Age: 31
Location: South Carolina
When did you discover anime? Share as much as you remember. My first memory of knowing what I thought this "anime stuff" was is seeing Sailor Moon on Saturday mornings before the regular Kids WB shows would air, so this would be roughly 1995 when I was in the 3rd grade. I just kinda knew that Sailor Moon wasn't like traditional cartoons that I watched like Batman: The Animated Series or Animaniacs, so I only had this understanding that they were Japanese cartoons. I knew of a girl who lived in the same apartment building I did who had a Sailor Moon denim jacket she wore every day, but I never had a chance to talk to her or ask her about the show.
In the fall of 1998 the Pokemon craze first came to America. I would catch new episodes of Pokemon right before I got to the bus stop around 7 AM when I was in middle school. I knew it was a cartoon based off the Red and Blue Game Boy games that had been out for a few months, and eventually I got my copy of Red that Christmas. Even though I was watching Pokemon and playing the games, I didn't consider myself an anime fan of any sort. It was just a cool craze the kids I knew were part of, kind of like how yo-yo's were becoming a craze at that time.
I remember going to the video stores at the mall where the local Suncoast was located, but I never really looked at the anime section other than I knew where it was. It wasn't before long before I realized that was about to change for me…
What appealed to you about anime when you first discovered it? I guess I could be considered a "first generation" Toonami anime fan, because without Toonami presence being on TV around that time, It wouldn't start the chain events that has lead me to writing about my story on this site almost 20 years later.
It was March of '99 and I was at the lunch table with my nerdy Pokemon friends that I knew since we all lived in the same apartment community together. One of them started to talk about this new show called Dragon Ball Z that was on Cartoon Network in the afternoons. The more he talked about it, the more I had to know what this show was about. My first memory of watching DBZ was a few weeks before Toonami did their DBZ20XL week long marathon, which gave me a chance to catch up on the beginning. From then on, I liked what I saw and I was hooked. I even remember my mom and my brother in my room building Legos while they aired the first three DBZ movies on TV for the first time ever that summer of '99. After that it was only a few more months before DBZ became the hit it is today. Even at that point, I wasn't a big anime fan, but I was hooked on this DBZ stuff.
This was when I started to pay attention a bit more to the anime section at my local Suncoast, and I remember asking my aunt who I visited in Arkansas to see if any Blockbusters carried rental DBZ tapes past the episodes Toonami didn't air past until months later (which was around episode 50, or the same amount that is in the Rock the Dragon DBZ boxset). Of course none of the stores had anything past those episodes, because they weren't even released commercially yet. I remember that being a long waiting game until the end of the year when the Frieza Saga continued on TV.
What later catered to my gateway anime show was the March of 2000, when one show would change my very being into being the ultimate Gundam fan I am today: Gundam Wing. Gundam Wing did to me what Attack on Titan has done to anime fandom, being "that" gateway show to gradually lead them down the path of wanting more and more anime. Sure Toonami had Tenchi Muyo, Rurouni Kenshin and others that I kept up with, but the world of Gundam took a hold of me many years later.
It also didn't help that Adult Swim started up when I was starting high school in 2001 with Cowboy Bebop being my other obsessed show along with Gundam. Adult Swim and Toonami aired Gundam 0080 and 0083 in late 2001/early 2002, which I have those first airings on tape to this day. Anime on TV is a powerful weapon, especially on how it can be marketed at retail stores for people wanting merchandise off their favorite show. But what I was obsessed with was just the beginning.
You said, "I guess I could be considered a "first generation" Toonami anime fan." Can you tell me about this generation of anime fandom? Today can you spot one even if you don't know their age? My definition of "first gen" would be anyone that watched Toonami pre-Tom 3 or 4 era I'd say. It's nothing official, but Toonami to me up to the Tom 3 era and Tom 4 era are two different areas. If you talk to people who are Toonami fans, you can tell how old they were just on what shows they were obsessed with during Toonami for what they remember. I came in during the last half the Moltar era, but I didn't check out anything pre-Moltar when I heard their schedule was old Hanna Barbera cartoons and some Voltron. I didn't get into watching Robotech on TV at that time, and if it was on it probably didn't interest me at the time (yet I'm a Gundam fan today, go figure).
It's really true when people say that television rules a society, and in Toonami's case, rules a generation of anime fans into the new millennium. I personally think without Toonami, anime fandom wouldn't be like it is today, or this large. You can owe western anime fandom to the television, the evidence is clearly there that every person who has a story to tell on this site saw anime on television at one point in their lives. It's kind of baffling to me that someone like Carl Macek would find a way to adapt anime to American television to cast a wide net of new fans and viewers to turn fandom into what it is today, and still be looked on in history by some as the antichrist of anime. His idea of getting anime out there to a wide audience works, and we see it years later with how far anime fandom has gone because of television networks hosting them.
What would you say was the most popular anime at the time? Since I've been talking about anime at the turn of the century, certain shows were still big online that had a lot of discussions at that time (and still to this day). One show that I finally saw after hearing so much about it was Neon Genesis Evangelion, which I didn't see 'til the summer of 2002. How I saw Evangelion was rather interesting, because I saw it en espanol in a hotel in Guayaquil, Ecuador. There used to be a Spanish animation channel called Locomotion that aired anime, and since I was there for a week on a church mission trip, I happened to catch my first episode of Evangelion, which is episode 11: "The Day Tokyo 3 Stood Still." Still today it's one of my favorite episodes, along with "Lilliputian Hitcher," which was the second episode I saw on that trip. I even remember seeing some Rurouni Kenshin in Spanish, which the episode I saw must have been from the latter arc of the anime series.
It wasn't until I meet a friend in my sophomore year of high school who lent me his Eva VHS tapes (which were half dubbed/half subbed) which is how I finished the series. I also got to see other stuff in my high school days and things I rented from Blockbuster that expanded my knowledge and hunger for anime even more. One of my favorite OVA's is Sol Bianca, and it was a rip from STARZ one of my other friend in high school lent me. I believe I saw it dubbed, which i'm still trying to track down, even though I own some cels and all of Sol Bianca between the original and the "Legacy" collections.
What was it like to be a part of anime fandom at the time? The only world of fandom I was part of was my group of nerd friends in high school who I did airsofting with and watched whatever anime they were watching. Some would bring in taped G-Gundam in and show it to a friend during lunch break on one of the school TV's, which the teachers didn't care what we did with them as long as they weren't broken when we got done with them.
The internet played a major part of my fandom, mostly from joining online forums. One forum in particular I first joined was ran by none other than Zach Nathanson, or the main host of The One Piece Podcast. This was looooooong before he ever got into One Piece. This of course lead me to joining sites like Toonzone where the people I started to talk to on there are still friends with me today online, which is where most of my connectivity with nerds are these days. It's our own little nerd community, and I don't see that changing soon.
I fully believe that having an online community has greatly helped me as an anime fan over the years. I'm still friends with many people today that I've meet through online forums and even though AOL Instant Messenger. Some I have met in person and others I have yet to meet.
It's actually through anime podcasts that I've become friends with people to this day as well, which our only meet up would be Animazement since I'm originally from Raleigh NC before I moved to South Carolina. Even with me doing my own anime podcast I've been able to meet people at local conventions who know me through my podcast or through panels I've done over the years. The community might have its weirdos, but I seem to get along with them pretty well for the most part.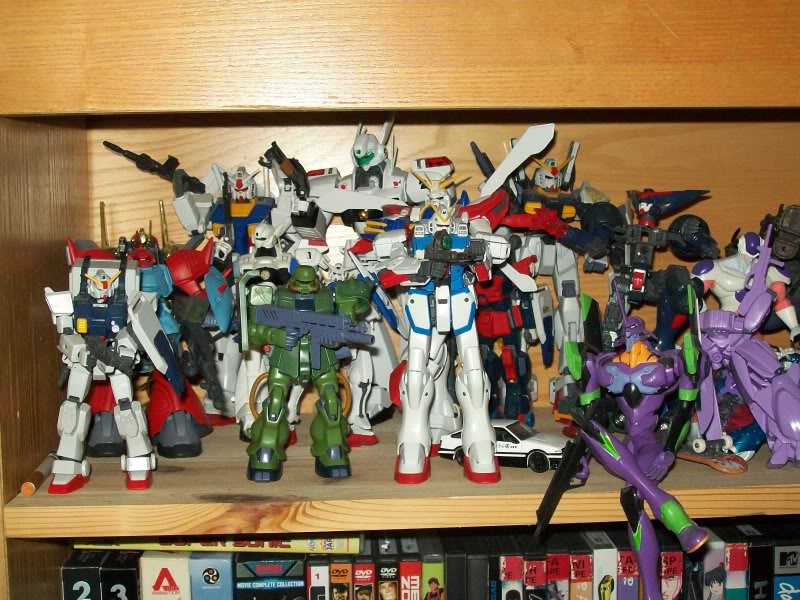 Tell me about Gundam Wing and how it became your "gateway" anime and obsession. How did you express your fandom for it? I wouldn't be a Gundam fan if it wasn't for Gundam Wing as that first stepping stone. As much as Gundam fans want to criticize Gundam Wing (and I was formally one of these people for many years), I realized that Wing was the perfect show to introduce the western world into Gundam. It's not perfect by any means, but I really can't think of any other Gundam series that would "hook" a western audience quite like Wing did. It was the right show for that right time, and Cartoon Network and Bandai of America I think picked the right content to bring Gundam to the west publicly.
I remember when it first came on Toonami in March of 2000, and I was heavily engrossed in the show. I remember looking online about Gundam Wing and someone mentioned how it's a whole series of shows under the Gundam title going back to the late '70s. To me, that blew my mind, but I wouldn't know too much about it until other series of Gundam came to Toonami in coming years.
There was a point that I fell out of anime from early 2001 to that early September when I went to high school my freshmen year. It was 08th MS Team that was airing that got me really hooked into Gundam because it looked as if I was watching an animated version of a Vietnam war movie, but animated with giant robots. It also didn't help that I met a friend that same year who helped me get into Gundam more, which is when I remember picking up one of my earliest Gunpla kits at Toys R Us and bought a number of them off him over the years to come. It was also from my same friend that I became a big Victory Gundam fan, and it all started from low-quality Real Media files subbed in Chinese to get me introduced to a Gundam series that wasn't going to be released in the states 'til another 15 years later. I eventually found ways to watch it fansubbed in English online, but I'd never thought Victory Gundam would ever make it stateside, but I was glad RightStuf put it out on Blu-ray. I even have a "shrine" to Victory Gundam on my shelf above my anime DVD/BluRay collection. I think what drew me to Victory was that a lot of people weren't talking about it or knew little of the show when I was seeing it in 2002. And for me, I have a tendency to obsess over things that no one cares about because it just makes it more unique for me to enjoy I guess.
I was so obsessive over Gundam that I made some fan films using my Gunpla kits that I had in high school, that after years of debating on doing this, I decided to upload them on youtube after being on a tape for over 15 years. They are quite bad, and my story was all of the top of my head, but I felt that I had to express my creativeness with what I had at my disposal at that time. If anything they might be for a good laugh, but I had fun making them regardless of how big of a piece of garbage they are hahaha.
I have kept a good tape collection of Gundam on TV over the years, since I have taped recordings of Gundam 0080 when it first appeared in 2001 on the Toonami Midnight Run, and Gundam 0083 early in 2002 on Adult Swim. If any Gundam is on TV I was there to record it, which I still have those recordings in a box to this day. I remember even getting the first printing of Mark Simmons "Gundam The Official Guide Book" when it was released that Spring of 2002, and that I had on my person throughout high school in my bag. The book is a little beat up, but I look at it as a great resource bible for Gundam knowledge pre Gundam Seed. Over the years I've collected and sold off my Gunpla collection, and my podcast gets Gundam material from RightStuf to review, so I'm very grateful to be given that opportunity by an anime company to review their products. I'm not sure if I'm the biggest Gundam fan out there, but to me I'm the biggest one I know.
You mentioned Initial D was your biggest anime obsession today. Tell me about how that happened. I actually came across Initial D first at an arcade in Massachusetts when I was visiting a friend that summer of 2003. I remember walking around a mall when the arcade there had the Initial D Ver. 2 cab out in the open, which just came out that year. I was able to sit down and play the first track and made my own custom card on a magnetic card that Sega used for people to save their data on. After my first race and getting some points, I was able to keep the card and thought the game was really cool but didn't think much of it.
Fast forward a few months later and I was checking out my Victory Gundam data CDs I bought from my friend a year prior, and on the last disc was the first 4 episodes of Initial D. Two of them had a Japanese track with English fansubs, and the other two were dubbed in Chinese with English subs. After watching the first episode, something clicked in me to be completely hooked on the series. I think it had everything to do with the Eurobeat music, car racing on mountains that didn't look as stupid as it trying to be full of stunts in those Fast and Furious movies that were coming out at the time. The show got ahold of me hard. It was around this time that Tokyopop was releasing the DVDs for Initial D for the first time.
So over the course of the next year, I was buying every Initial D DVD that was coming out from Tokyopop and was watching them in Japanese to keep the Eurobeat tracks since the dub rap lyric music was god-freaking-awful. It also helped that a local amusement place in Raleigh NC that had those same Ver. 2 arcade cabinets of Initial D, and I made every attempt my junior year in high school to head up there when I could. I remember a friend in high school was buying the manga, and I remember bulk reading a huge amount of issues over a weekend.
What kept me hooked on the arcades was the arcade scene for Initial D. Online there were several teams that would compete against one another in places like Canada, China, Northeast and on the West Coast that would do meet ups and post up time attack times to always get the one up over someone on a course by fractions of a second. The worst people attitudes ever got was the usual trash talk on forums but that was the extent that I saw. Some did videos trashing other teams because of a fraction of a second, it was essentially another way for guys to dick measure each other on an arcade, but it's all in good fun in the end haha.
Another huge positive for me for being an avid Initial D player and a fan was how I met my best friend to this day. I was working Toys R Us Christmas in 2005 in the video game area, and one guy came in that we hit it off pretty great. He was a nerd like me that liked video games and we seemed to have the same interest. I wasn't sure if I said it or him, but one of us blurted out about playing Initial D. All I remember was being really happy that I found another Initial D player. What was also awesome was that I got to hang out at his house that night and play the PlayStation 2 game, which I didn't know existed for home console and he burned me a copy on the spot to play. Over the years we have had some fun discussions on Initial D regarding making fun of how the music was written, taking road trips to playing arcade games, and even playing against each other from time to time. Of course, it's also us doing life together by staying in touch and selling video games the past few years at Animazement. I should note that to people who are video game collectors, my friend is Josh Fairhurst of Limited Run Games, which is his own company that has been featured in printed and online magazines about his business printing limited copies of games out there for collectors.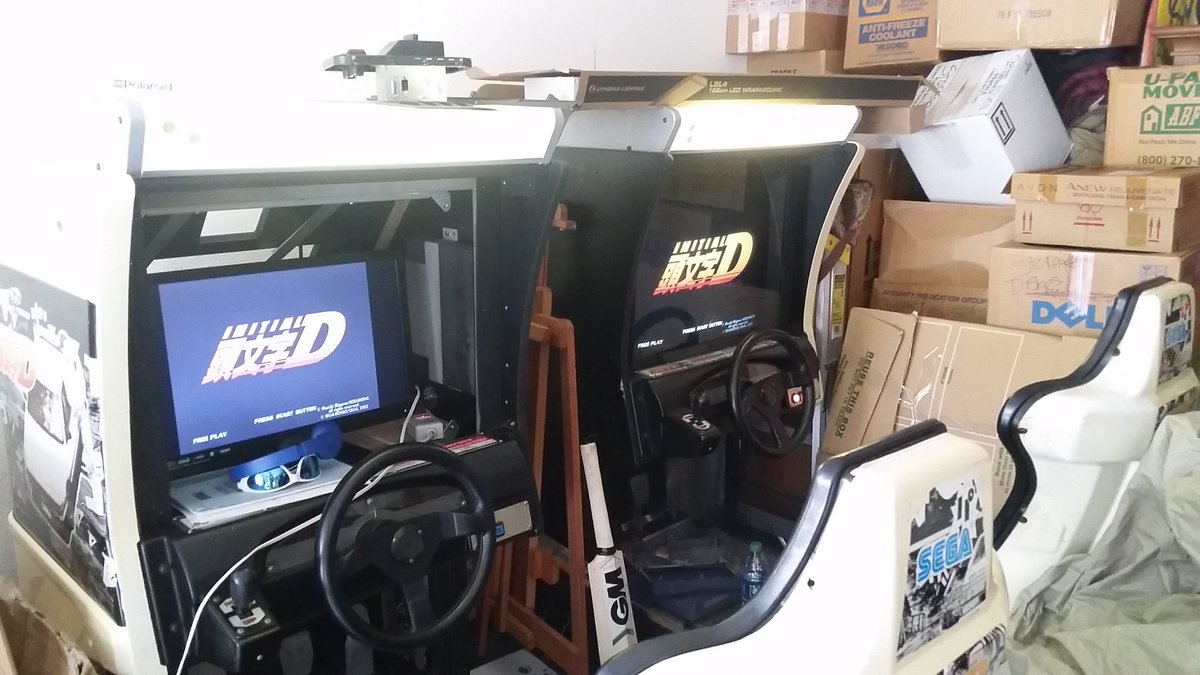 My other big thing on Initial D is how I acquired my very own arcade cabinets over a year ago. There is a local arcade joint in my town that for a number of years had the original Ver. 1 of the game sitting in a corner of the old area before the owner switched places. I would always try and haggle for a better price since the machines are beaten up and need work, but the owner would always overcharge on what I thought they were worth. Once I heard that the owner moved, I heard he left his old arcades in the old building to try and auction off. Sometime later I noticed someone took over his old spot and found that his old machines were still there. I immediately went to the area where the Initial D cabs were, and behold they never left their area. So for 300 bucks I bought both cabinets from the owner at the time and took them home in my garage where over the past year I've been slowly trying to restore them to working order. I still need a few more parts but they are both running fine to where both people can play against each other. It's funny how 14 years after I first played Initial D in the arcade, I'm now a proud owner of the arcade, and it's a wonderful thing to have.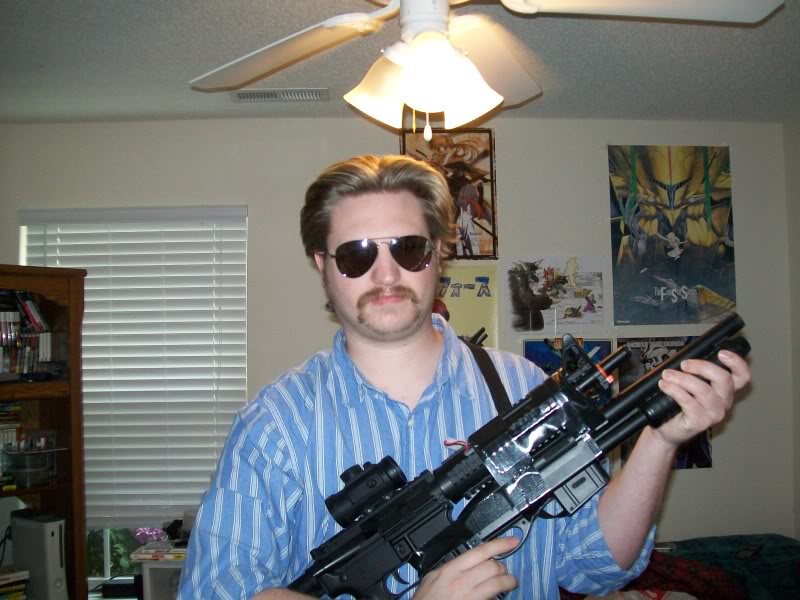 Do you remember your first convention? My first convention was Animazement in 2007, when it was still meeting at the old Sheraton hotel before they moved to the Raleigh Convention Center where it's going to be housed for I'm sure many years to come.
I remember actually going on a whim when I knew it was that weekend, and decided to take whatever cash I had on me and make a day event out of it. I really enjoyed getting cool stuff from the dealers room, the small game room that has expanded so much over the years, and meeting some cool people that over the years are now people I still meet up with all these years later. I have gone just about every year consistently since 2007, so Animazement is my home con that I go to.
What did your family think of your interest in anime? My family at first didn't have an issue with it but then wanted to try to make it an issue. There was a past story on this site that is somewhat similar to mine, where I grew up in a Christian environment which dictated some decisions on what I was allowed to watch and not watch. I was able to relate to that person's circumstance easily, but I had a better outcome. After a while, my family went from not wanting me to watch any Dragon Ball Z to not really caring what I watched.
My family has never said to me that they didn't like my anime hobby, probably because they knew I grew up as someone that became a productive member of society and is doing something with my life than being a basement dweller nerd. I want to believe I'm as hardcore of a nerd as they come, but I'm still a functioning member of society, where I'm working towards finishing my Bachelors in Communication at Anderson University in South Carolina. I'm still a strong believer in the Christian faith, and to my family that's more important than whatever hobby I'm interested in because it's important to me. Everyone has a hobby and will have hobbies, but there is a way to use a hobby to help the kingdom of Christ. Being in anime fandom is no different than being part of an outdoor sporting group or a car club, it's the fact that you're with other people to share ideas and beliefs, it's the hobby that brings people of the same interest together, which gives a person of the Christian faith a chance to serve others and share the gospel.
When and why did you decide to start your podcast? Well, the podcast I have isn't my first podcast. I made a joke once that if "podcasting were like wives, I'd be paying a hell of a lot in alimony by now." The current co-host I have Jonn is someone I've known for over 10 years from this animation forum Toonzone, and me and a handful of other users from that site communicate through online chat services to this day, coming from AIM to now Slack. For a number of years I wanted to do an anime podcast because I had this desire to talk about the anime I was watching, and that seemed to be the best outlet to do it. My friend Jonn was telling me that they started a podcast on a website called ToonRadio.net, and called it The Kool Kids Klub. The title was meant as a joke, but I didn't care since I wanted to talk about whatever I wanted to talk about. We kept that name for about a year, then did another one that lasted six months and after some falling out between people, I wanted to be on hiatus.
My friend Jonn and I still wanted to do podcasting, but weren't sure on a name. He pointed out that we could name it after the blog that I do, The Anime of Yesteryear, and I told him why not. So after 4 and half years later and past 100 episodes, were still doing what we're doing. I've had guests on our show like Arron Clark from EvaGeeks, Geoff Tebbetts from Golden Ani-Versary blog, Gerald Rathkolb from Anime World Order and voice actress Lisle Wilkerson as guests since we started. If anything the podcast really keeps me rooted in my anime fandom since it makes me stick to watching anime and discover new things that we wouldn't find on our own. The purpose is to stick to anime that is past 2000, but we do occasionally break that rule from time to time, and cover other stuff that interest us.
The big thing that keeps me and my co-host going is staying committed and diligent. I think people podfade when they realize that it's more work than they want and just give up. But if you want to keep a podcast going, you have to stay diligent and commit to make it go as long as possible. I don't want to quite podcasting, because I like to run my mouth and I got things to say, and its also pretty strong in my heart to keep it going.
How did podcasting changed the way you interacted with anime? With fandom? I'm able to give anime a more critical look than just saying I like/dislike something without any hard reasons as to why. It also helps that other podcasts out there that review things I enjoy but will slam hard on them. Podcasting is also just a nice way of someone giving an audio critique on a title compared to a written one. I've come to realize that everyone has an opinion on whatever show they like or dislike, and it shouldn't get to me if they think and believe opposite of what I like and dislike.
I think it's good to hear the opinions of other anime fans out there that don't always share the same opinion you do. Instead of taking someone's slam piece on an anime you enjoy to heart and being pouty and bitter at them because they don't like what you don't, look at it as an opportunity to see the weaknesses of the thing you enjoy, but also find ways to strengthen your love of that series. I certainly have been harsh on titles that other people enjoy, but I also love titles that other people don't enjoy. But at the end of the day, it's all about having fun right?
What's the biggest contrast between anime fandom then and anime fandom today? I'd say it's definitely time and tastes changing. I've noticed that series that I still believe are hot items like Cowboy Bebop, Trigun, Gundam, and other series and OVAs I remember enjoying at 17 and knowing other people that enjoyed it, are now titles that other 17-year-olds don't know anything about and consider them "old" at this point. I think that's the nature of slowly becoming part of the "old guard" of anime fandom now in my early 30s, where my mind and fan spirit of how I've always seen anime are now relics of their time, and the new titles I don't care to really be interested or I think are just "copies" of what I love to share that aura of excitement and love that today's anime fandom is obsessed over. The feelings and love stay the same, it's just another product to fit into that groove while the thing you still love is tossed into the wastelands, and only the older crowd will remember it.
I can't make anyone be obsessed with the anime I love, but I sure can introduce them to it, and hopefully, they might see a series or OVA in the same light as I still believe it has many years later. I feel that it's a natural obligation for those who have been in anime fandom for a long time to be mentors to newer fans in introducing them to series that they normally wouldn't pick up on their own. It's kind of biological for the old generation to naturally teach the young generation of anime fandom. This is why I love doing panels at conventions and podcasting because I have that drive to express that.
Dustin can be reached on Twitter.