Age: 26
Location: Just outside of Philadelphia, Pennsylvania
When did you discover anime? Share as much as you remember. I think it all started back in elementary school, when Pokemon was becoming popular. I never was the type of person to follow the trends and fads, but my cousins managed to get me into Pokemon, which has now become a lifelong obsession of mine.
I watched the Pokemon anime on TV, though at the time, I didn't know it was anime, or what anime was. And this eventually led me to watch other shows.
I eventually started watching Yu-Gi-Oh!, which was the most addictive show I'd seen yet. It wasn't until it was in its final seasons that I really discovered it was anime, and what anime was.
What appealed to you about anime when you first discovered it? At first, a lot of it was the art style, and the character designs, especially creatures. But what really stuck with me is the complexity of some of the characters and stories, and the fact that it's just darn addictive to watch.
What would you say was the most popular anime at the time? Probably Dragon Ball Z, but I never had a chance to watch it myself until much later.
What was the first anime you got really into? How did you express your passion for it? Well, I am a lifelong Pokemon fan.  But I'd say the anime that really made me a fan was Yu-Gi-Oh! I collected the cards extensively (and still do to a degree), and maintained a massive database of them.  I used to try and put together some of the character's decks and tell some of my own stories by arranging some mock duels with them (and of course, making some of my own cards too).  I remember when I found out it was the last season, and was disappointed.  Then I heard rumors of a spin-off/sequel series, Yu-Gi-Oh! GX, and for a time, was crazy obsessed with trying to find a way to watch it, despite the fact that it aired only on a cable channel I didn't have at the time.  So I spent lots of time looking up episode summaries and trying to track down DVDs of GX that I could watch—I was so excited when I first found one.
What was it like to be a part of anime fandom at the time? The thing is, I don't feel like I was.
My father was cheap. He never invested in cable television or good internet. Because I didn't have cable, for the longest time, I was only able to watch anime that aired on network television, usually alongside Saturday morning or after-school cartoons. Because of this, I felt like I was watching shows meant for younger kids.
While there were some otaku at my school, I didn't feel I would fit in with them, because I hadn't seen Inuyasha or Fullmetal Alchemist or Naruto or Dragon Ball Z, or any of the other well-known more mature anime at the time.
On top of that, I had an interest in costumery, and in secret, I put together makeshift costumes based on some of my favorite characters (a lot of Pokemon). I felt this was weird too, especially given that I wasn't a fan of Halloween when I was younger. I didn't know cosplay was a thing at the time either.
The other kids at my school were not very tolerant of people who were different. They found ways to twist more mundane things into something they could use against me. I had to keep this interest a secret—it was a matter of survival. Unfortunately, keeping secrets took a toll on me—in my case, it caused me to develop social anxiety.
Can you tell me more about the ways anime fandom caused (and later helped) your social anxiety? Well, the people at my school proved to me that they aren't very tolerant of people who are the slightest bit different, taking something that's just a simple difference of opinion, and escalating it, basically rubbing it in my face how their opinion is the only right one. If I gave these people the slightest bit of information, they would use it to make my life miserable. I felt that something like my anime fandom, which was a major part of who I am, would be used against me in a big way—especially as I'd heard some people talking negatively about some of the anime I loved. So I pretty much just kept to myself. For me, that was a matter of survival. And when you fall into that habit for long enough, it's difficult to break—even when I got into college, which was a much more tolerant environment.
It was really my convention experiences and finding other fans on the internet that helped me start to recover from this. Just realizing that there were more people like me, being around them, and basically being accepted, though it did take some time for that feeling to truly sink in. I had the idea of doing a panel last year, and when I first presented, it was in many ways a liberating experience—just being able to talk in front of a large group of people about what I love and not feeling like I'll be judged for it. I mean, I do still have a ways to go—I can still be a bit nervous when talking off the stage.
Was the internet a part of fandom at the time? Well, like I said before, I was stuck with cheap internet as a child, so I didn't have a reliable way to connect to the internet until I was a senior in high school.
But this also meant I didn't grow up with the internet the way most millennials did. I was distrustful of social media and afraid to post anything, and remained largely a lurker online for years. But despite that, the internet did reveal the existence of the anime community, the cosplay community, and conventions to me.
Do you remember your first convention? Sadly, there weren't a lot of good conventions in the Philadelphia area, and being that I first learned about them when I was a college student with low income, I couldn't afford a trip to someplace like Otakon until much more recently.
But eventually, I found a small local event at a college over in New Jersey, Kotoricon. It was an amazing experience, I felt like I could freely be myself, though I was also having difficulty processing it, so I remained very shy.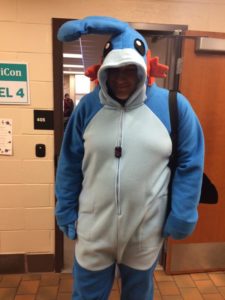 When I went back for the second year, I was actually able to cosplay. The first three hours I spent cosplaying was pure bliss. I remember seeing a picture somebody took of me online. My hood was up, I couldn't see most of my face, but I could see my smile. I don't think I'd smiled like that in years.
I'm still an avid convention-goer and cosplayer to this day, though now I also go as a panelist (I was a presenter at Otakon last year), which gives me the chance to share my passion with others, and has helped me with my social anxiety.
Tell me about making friends with other anime fans for the first time. The first time I remember was a convention panel I attended. One of the panelists approached me after the panel, having liked a comment I made during the panel. She handed me her card, asking me to contact her after the convention.  I tried to do this, but the email on the card she provided wasn't working (and I didn't have Facebook at the time). I eventually was able to get a message to her through her co-panelist, but didn't hear anything more back from her. I thought that was the end of it, but I was at one of her other panels at the convention next year, and she remembered me. Some time after that, I did get a Facebook page, and finally reached out.
Aside from that, there were a few people I meet after they get my picture in cosplay, and sent me a copy, or I found and commented, or they found a picture I got. Though most of these are just one-off chats.
More recently, I made a lot more friends when I discovered a group that holds regular meetups for cosplayers and anime fans in the Philadelphia area. I quickly became a regular at their meetups, and a lot of the other regulars know me. And I'm currently in talks to become a staff member in this group, or at the very least help arrange a few activities for a future meetup.
What kinds of topics did you present panels on? My big panel right now is on papercraft, or more specifically, a somewhat lesser-known form of papercraft called Pepakura. With this artform, somebody can make a physical paper model out of a 3D model from the computer, so it can be a cheap and fun way to get a collection of your favorite characters.  I've done this panel at five different conventions so far, including both AnimeNEXT and Otakon. If you want to learn more, you can check out my website or my corresponding DeviantArt or Facebook galleries. I have a few other panel ideas in the works, but don't think they'll be ready for presenting anytime soon.
How do you think you've grown as an anime fan since first discovering the medium? Well, today, I feel like I have so much more opportunity to express my fandom. Like I said, back in the day, I felt like I had to be secretive about it, today, I feel like I can be quite a bit more open about it. Back then, I felt a bit weird because of it, but I don't anymore. Today, I have access to online streaming services, that I've been using to catch up on some of the anime I missed out on when they first aired.  I have the money needed to commission better cosplays, and I'm making friends in the community. And I feel like having more opportunity to express my fandom has made me overall a bigger fan.
Joe can be reached on Twitter and DeviantArt.