Age: 48
Location: Wiltshire, UK
When did you discover anime? Share as much as you remember. When I was a kid, most of my friends were watching Scooby Doo, but I was crazy about a show called Battle of the Planets. I think it was the first cartoon where the good guys had setbacks and suffered. I noticed that the 7-Zark-7 bit was weirdly out of place, but ignored it. It wasn't until years later that I found out it had been a severely edited anime show called Kagaku Ninjatai Gatchaman.
Years later, during my first semester at Virginia Tech in the US, there was a thing on campus called AnimeFest. I was bored and curious. I opened the door to a dark video room, and the guy in charge nearly fainted at my feet… literally, because he hadn't eaten in 24 hours as he was getting everything prepared. I helped his roommate get him to the car… and found myself in charge. First anime I watched there was Tonari no Totoro. Age 17, and it stuck.
Two years later, I was president of VTAS, the anime club there.
What appealed to you about anime when you first discovered it? Bad guys sometimes win, and good guys get to suffer a bit in order to reverse that. Blew my mind as a kid.
By the time I hit university, though, it was the amazing visuals of the Miyazaki films that really caught me.
Still, I can't deny that it's the whole darkest before the dawn trope that still works for me.
What would you say was the most popular anime at the time? Ranma 1/2 was big, well, anything that was Rumiko Takahashi, really. Not really my thing, as I wasn't really into farce.
What was it like to be a part of anime fandom at the time? Totally different from now. Utterly. Back then, we'd trek up to Washington DC to meet with another club, and daisy chain dozens of VCRs together to get unsubbed anime from either tapes made by US military guys in Osaka or wildly expensive laser discs. Our club had a gigantic suitcase full of tapes.
During my year as VTAS president (1990-91), I managed to, ah, persuade Virginia Tech to buy us an Amiga and a genlock for subtitling. Nearly talked them into getting us a set-up to make our own cel animation. If this sounds crazy, it was mostly due to the fact that we had 300+ club members and were the largest non-sports related club on campus. Our Tuesday meetings had a minimum of 200 people. This was all people willing to watch raw untranslated anime.
So, once we had the machines, during my term and the next year, I subbed shows for the club meetings and our twice yearly Animefest weekends. Taught myself Japanese just to know when to hit the enter key for dialogue. That first year, the subs made the club explode even larger, but then the titles I was subbing were Record of Lodoss War and Gundam 0083. I managed to con the club into watching Legend of Galactic Heroes as well with selective edits of the cool ship battles. By the time people realised it was a "talking heads" show, they didn't care.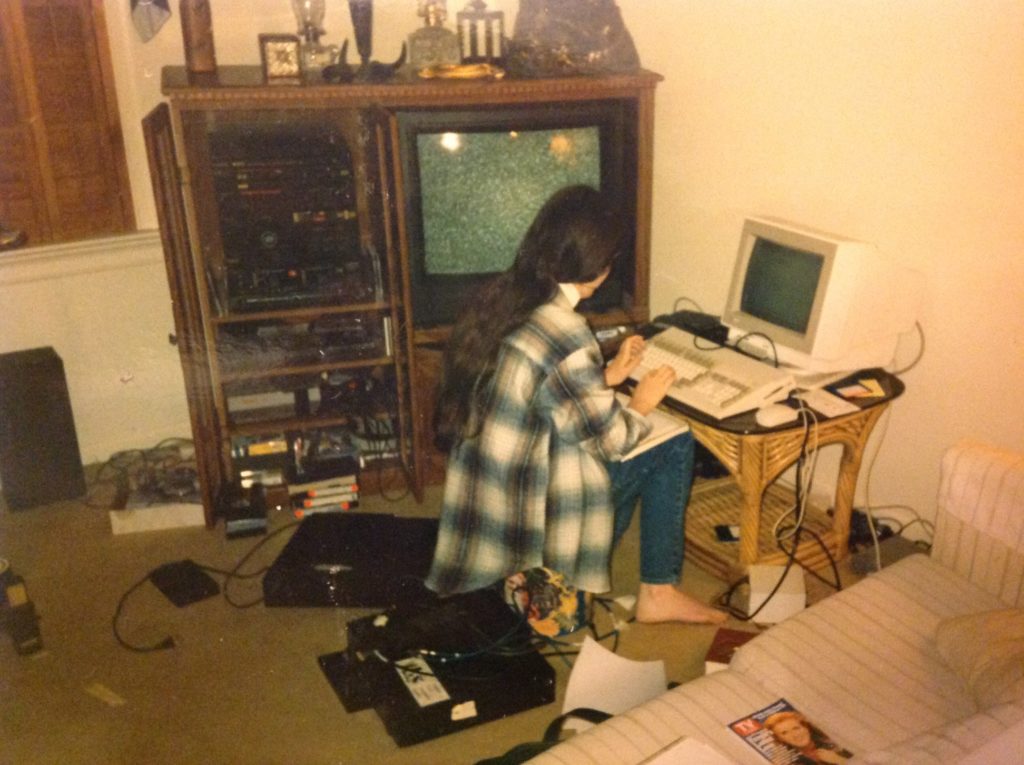 We had one AnimeFest in 91′ where we fan-premiered the Silent Möbius film that I subtitled for the event. What a nightmare. I worked for two weeks timing the subs for it, even bought the CD so I could translate the ending song, and still, somehow the whole thing was lost hours before the event. We hacked the auditorium set-up, and I subtitled the damn thing live in front of 500+ people. (Seriously glad the fire marshal didn't show up. We definitely had more people that we should have in there.) I made two mistakes, and one was during the ending song. I can't listen to "Sailing" without twitching.
I stopped fan-subbing once companies like ADV and Animego started doing some seriously good stuff. As I'd only subbed for my college club, not for sale at cons or even in the post, it wasn't a big thing. Viz did some nasty saber-rattling at that time as well, but their Ranma subs were pretty horrible back then.
It was during one of the VTAS AnimeFests that Larry Drews and Chris Impink started making noises about starting an East Coast anime convention. AnimeFest already had a huge audience coming from out of state as well as from Tech, we had a guy selling bootleg Chinese knock-off CDs, a bunch of fan art on display under the stairs, people wearing stuff, a program book… And that's how Katsucon started, really.
Was the Internet a part of fandom at the time? If yes, how? If no, how did you connect with other fans? There was email, and basic stuff, but this was before Mosaic introduced all the pretty pictures to the Web. So we'd get some subtitling scripts from other clubs, or swap timings, but most of our interactions with other clubs were face-to-face at either SF cons or by attending their meetings. I drove up to DC for weekend taping marathons, drove down to Raleigh NC a few times for the UNC's club anime weekends (where I had to console a Japanese expat who had no idea about how Minky Momo died.)
[Editor's Note: After the show's toy manufacturer sponsor backed out, the animators had Minky Momo get hit by a toy truck. It was brutal.]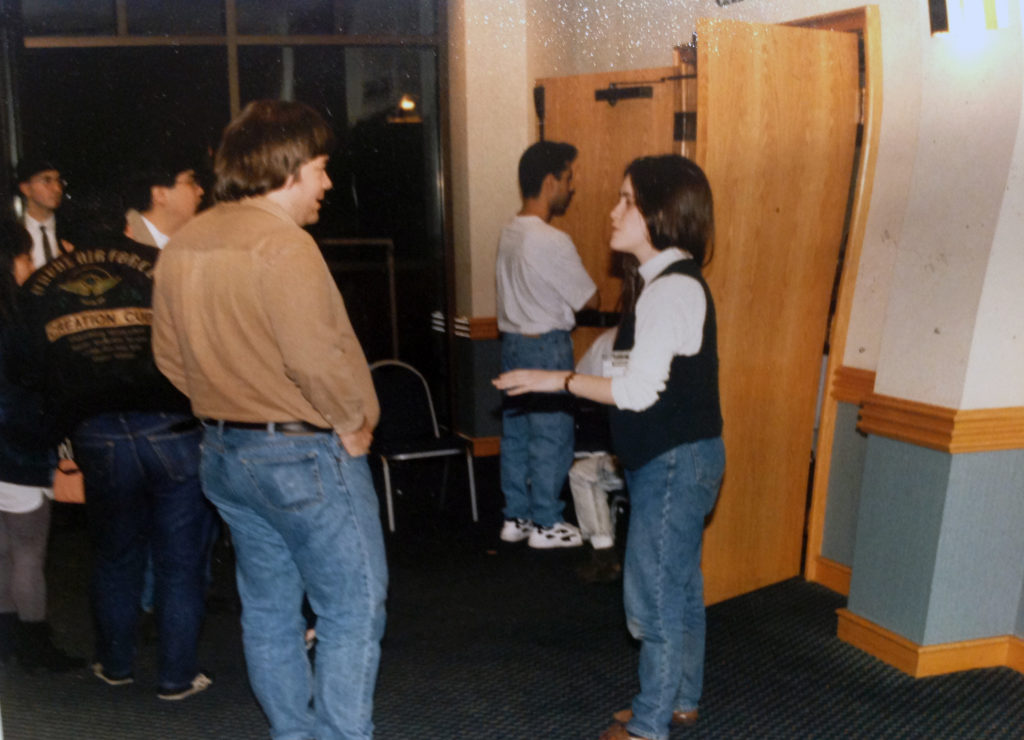 Do you remember your first convention? What was it, and what was it like? Katsucon Ichi, where I was Head of Art Show. (The first three years or so, we used the Japanese numbers for the con, but I think after San/3 we stopped as it was just confusing people.)
I ran the Art Show for the first few years there. Back then, the Art Show was huge. Now it seems to be an afterthought, with most fan artists being in the Artist Alley. For Katsucon 3, I had so many artist submissions that I had to choose whose work to hang. Biggest artist influencer during those years was Clamp Studio due to X. We had a small sectioned-off Hentai area, which I nixed after the third year because no-one would hang anything, the chickens. I used Magic the Gathering cards clipped in half for the baggage check and nearly made Bob Woodhead of Animego cry. (He wandered around that first year with a deck just to flash his damned Black Lotus card around.)
Artist Alley didn't exist back then, so you'd find me, Rob DeJesus, Fred Perry and a bunch of others hanging about outside the art show drawing on tables placed there for water coolers. One friend of mine who shall remain nameless handed over a sketchbook to DeJesus and, when asked what he'd like drawn, replied "Whatever!" Mistake. Sleep-deprived and punch-drunk artists granted carte blanche means a whole sketchbook full of anime-style porn with an increasingly outrageous use of Pocky.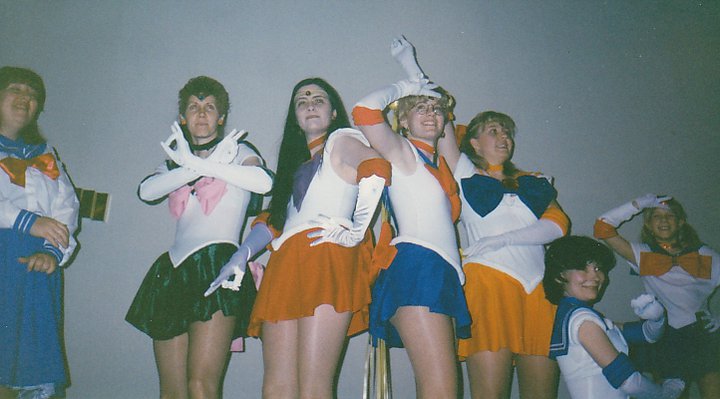 Being con staff in the '90s was incredibly different. No corporation, just a bunch of fans. So much more casual. I looked in on a meeting for Katsucon a few years back, as an alumnus. It was insanely complicated. The early cons, Japanese guests were easy to get. The idea of US cons was new to them and the publishers. Katsucon got Masakazu Katsura [manga artist for Video Girl Ai, character designer for Tiger & Bunny] as a guest by offering time at a gun firing range. Staff couldn't be in the Masquerade (the term from the SF cons, we hadn't started using cosplay then), so a bunch of female staff dressed as the Sailor Scouts for fun. I was Sailor Mars if you find the photos online. We made all our own costumes and props. Either the second or third Katsucon, I made two life-size Azaka and Kamidake, the Jurai guardians from Tenchi Muyo, out of free-standing lamps and hula hoops. They became the big photo-op prop that year.
Sailor Moon and Dragon Ball Z had started airing on TV, so we had a bunch more small kids than we'd expected. Lots of bewildered parents being dragged around by pre-teens then. The dealers' room was a bit caught off guard that first year, but then so were we.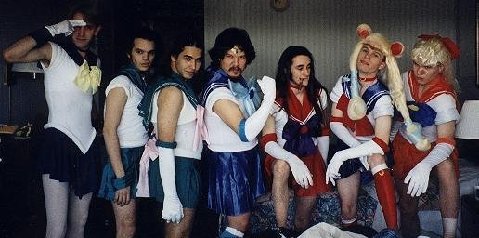 You've spent a lot of your time as a fan in leadership roles, as a club president, a convention founder, and convention staffer. Do you continue to seek out roles like this today, why or why not? I've moved back to the UK, and did join a club in Bath for a while. It was very small and met in the skittles room in the basement of a pub. Having a pint and watching anime was rather fun. But I wasn't anything more than a fan there. Now I work in the comics industry (DC and Marvel, not manga), I've mostly slid out of anime fandom. I keep up to date to some degree, and whenever I visit the US and the timing is right, I go to Katsucon.
Because of your roles, did you mainly interact with fandom in person? How did the internet change that, if at all? Fandom for me was almost entirely in person, other than getting translated scripts for subtitles back in the early '90s. Most of us subbers were at university, so we all had college email. Still, really no social interaction that way, mostly just swapping scripts and timings. Now, all my interactions with anime fandom are online and not in person. Bit sad, really.
Also regarding the internet, do you remember any of the old sites or forums you frequented in the early days, and could you tell me about them? I did do a bit of BBS stuff, friend of mine ran one,  but not much. Later in the '90s, past my subbing days but well into the Katsucon years, I did a fair bit of chatting with Jan Scott Frazier over ICQ, mostly chatting about anime soundtracks. Cowboy Bebop in particular. But I can't recall much more.
What was the first fandom you got really invested in? How did you express your fandom? Age 9: Battle of the Planets. I was absolutely nuts about that show. Had the lunch box. Made a watch and a helmet out of tinfoil and cling film. Did a lot of jumping off high things. I'm surprised I lived through it. Later found out about APAs and was sad that I'd been too young for it. (probably just as well, or I'd have had an early encounter with slash/yaoi.)
In my university years… Might be odd to say, but I never went crazy mad about any particular show. Plenty of shows I'd press on others, especially with the VTAS voting tapes. I was desperate to get people to watch more than Maison Ikkoku, which I seriously loathed. First show I was genuinely surprised by liking was Marmalade Boy. Everything I hated in an anime. Sports, miscommunication, slice of life, high school drama? Ugh. Yet not only did I watch the entire series, I kept the tapes for ages. In fact, wouldn't be surprised if they're upstairs somewhere still. I'm looking around my office, and other than a book on the art of Studio Ghibli and a bunch of ancient NewType mags, I'm oddly anime fandom free.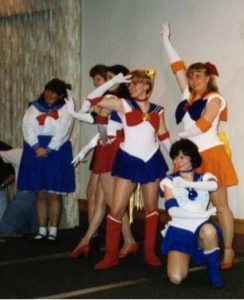 Wait, what's an APA? Stands for Amateur Press Association. There's a Wiki page on it, but look at it as a Tumblr post for the pre-internet geeks. They were started by amateur press owners in the 1870s, and many still run today. A number of the SF ones led some big authors down the path to writing professionally.
By the time I first saw one, BBS had more or less killed them off (despite the lack of art, which was one of the pluses for an APA.) Friend of mine showed me her collection of Gatchaman/Battle of the Planets APAs, which were amazing. Fanart, fanfic, and of course, slash, because Berg Katse [from Gatchaman] and his makeup were just too much temptation. Anime-oriented APAs provided synopses for anime (pre-subbing, so these were like gold), information on upcoming series, news about toys. Friend of mine managed a brilliant prank in one, where he gave a loving synopsis for a series called Hoi Polloi, art and album info included… and the thing never existed. I don't have any personally.
Oh, and APAs are still a thing here in the UK. I've seen them at Gosh Comics in London.
Today you live in the UK. How do your experiences of the US and UK anime fandom communities differ? Mmm, I should explain. My mum is British, my dad is American. I'm very transatlantic. I think I've now lived equal time in both countries. Until my mid-twenties, I came over to the UK mostly for either summer or Xmas holidays.
I didn't meet the UK fandom until I was subbing in the 90s. Can't recall how it came to be, but I did end up meeting a crew of Londoners because of the internet. I first met Helen McCarthy back in the days of Anime UK. Managed to watch the UK dubbing of All-Purpose Cultural Cat Girl Nuku Nuku because of her, which was hands-down one of the oddest anime experiences ever. They really stretched to get as many UK regional accents in as possible, and I nearly died at the one they chose for Nuku Nuku. Later on, we showed it at Katsucon (something that would be so illegal now, oops, but we were really clueless that first year). I brought over a lot of UK animated work, including the first Aardman Studio film, A Grand Day Out, as well. A clay animation called The Trap Door was a huge hit with VTAS. Many of the older UK fandom are just as intense about Gerry Anderson as they are about anime.
The UK anime fandom, as I've experienced it, are a tight bunch. Might be because one of the first anime introduced to the UK was Urutsukudoji, followed by Akira. It sort of cemented the idea of anime being porn and violence in the mainstream. But again, I've really not been involved with it much.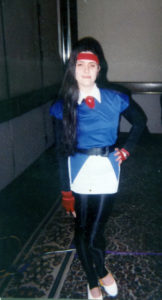 What's the biggest contrast between anime fandom when you got into it and now? We were idiots. No, seriously. It was so casual back then. No pressure for perfect photos or costumes. It was all home-made. You had to go to tremendous lengths just to see new stuff, and subtitles were an amazing bonus if you could find them. There was one show that we thought aired in black and white, but we found out was in colour, only our copy was so many generations down the line that the colour had warped. Then we got the final episode of Gunbuster, and thought it had happened again. We'd get tapes from friends, from army bases, from strangers in trenchcoats, and some times we had no idea what the show was before we'd put it in the VCR. It was like anime Gatcha. Sometimes you'd find that a show with a weird title was something utterly amazing, other times you'd find you'd been given tentacle porn. My poor roommate. She was cataloging the tape library, and after watching Creamy Mami, she stumbled across Cream Lemon [NSFW]. Oh so very not the same thing. But you just didn't know. Friend of mine created a spoof anime synopsis for an APA, and I think it spread across the US as a rare hard-to-find show. We'd go through all the NewType issues, trying to figure out what was airing.
Today, no mystery. Advance info for every show coming and going. Easy access to everything with Hulu and Crunchyroll, all in mint quality. (Dubs are still a mixed bag though.) I'm a mix of envious and sad. I do think that if I was the same age I was when I first stumbled into that Animefest right now, I would have only stepped shallowly into the fandom. The sheer flood of it, the high pressure at the cons… I'd have kept to myself. I think it was easier for introverts back then.
JJ Kelley can be reached on Twitter.