Age: 50
Location: Raleigh, NC
When did you discover anime? Share as much as you remember. I'd been a fan of Speed Racer and Battle of the Planets since I was a pre-teen, but the first anime I knew was anime was Robotech. I would have been 18 when I saw it, and I soon learned it was assembled from three unrelated animated series from Japan, which apparently had all kinds of this stuff.
What appealed to you about anime when you first discovered it? Macross captivated me. This show had a storyline that didn't talk down to its audience; complicated protagonists and antagonists; a grand space opera backdrop; and transforming vehicles that managed physical and logical plausibility. Honestly, the last one probably was the biggest influence.
What would you say was the most popular anime at the time? In the mainstream, Robotech was probably most recognized as an anime series. Sailor Moon hadn't hit yet; one could sometimes find heavily-edited and oddly-translated anime videotapes at Blockbuster, but few people realized they were anything more than stylized kids' cartoons. Star Blazers (Space Battleship Yamato) had been extremely popular, but only a few older fans knew it was anime.
What was it like to be a part of anime fandom at the time? Once you discovered imported anime, you almost always had to watch it untranslated. Sometimes a Japanese-speaking fan would provide Xeroxed synopsis handouts, but we spent a lot of time working out our own ideas of what was happening. Also, a lot of it was hard on the eyes, since we were generally watching 5th- or 6th-generation VHS videotape copies. Which is another point: back then, if you wanted to watch anything but a very few dubbed shows, you pirated your anime. I won't defend the practice, but that was the reality.
Can you tell me more about the untranslated or synopsis provided days of anime? Who did you watch it with? Where did you have these watch parties? Where did people find anime to watch, and how did they decide if it was worth watching? Most of what I had the chance to watch at the time came via the Virginia Tech Anime Society in Blacksburg. They had a steadily-growing library of videotapes provided by other fan groups (such as the Baltimore-area JASFA), by Japanese exchange students who would bring tapes back from vacation, and by friends with military and business contacts in Japan. I got to know VTAS people through friends in overlapping fandoms, and many of them are good friends to this day. We would watch in one of the auditoriums at Tech using their AV equipment—not a problem as it was a sanctioned club and besides, half the AV department were members. As far as "worth watching," that was mainly a matter of "I just got this and it was cool and I think you will agree!" Personally, sometimes I did and sometimes I didn't, but that was fine, it was the nature of the club.
You said that back then piracy was the reality. When did that shift? When did the prevailing attitude around anime piracy change? Piracy is still rampant, of course; back then, the copyright holders seemed not to be very concerned. Perhaps they felt they were building a market for future exploitation (accurate, if true) or perhaps they believed the American market was not large enough to justify enforcement. I believe attitudes shifted in the late '90s and 2000s as viewership matured, and anime became available by more legal means. An attitude I still hear is, "I will quite honestly pay money to see Series X the moment I'm given the chance to."
Interestingly, I personally know at least two people who now have legitimate jobs in the anime subtitling industry due to the strength of their work on pirated fansubs. It's a strange business.
Was the Internet a part of fandom at the time? If yes, how? If no, how did you connect with other fans? Well… the Internet didn't exist yet. I am sure there were AOL message boards and Usenet newsgroups, but at the time I didn't even know where to look for such. All my interactions with other anime fans were In Real Life, at general science-fiction cons, where we'd spend our time debating exactly how you pronounced Nausicaa.
Do you remember your first convention? What was it, and what was it like?
My first fan convention was in 1986, and didn't involve anime. My first anime convention was Katsucon 1, where I helped with the Opening Ceremonies; after that, if memory serves it was NekoCon in 2011. I wore my Sailor Mars cosplay, which went over very well or very poorly depending on the observer. I remember the huge crowds, and incredible quality of some of the costumes, and feeling a bit lost because I'd been away from the fandom for a while and didn't recognize a lot of what was popular.
Can you tell me about cons back when anime was grouped into sci-fi cons? I really want to hear about the 1986 con (since that's the year I was born!) My first con in 1986 was a small 200-300 person convention in Roanoke, VA called RoVaCon. I was there for the Star Trek and Star Wars fandoms, and there was a strong literary sci-fi contingent represented there as well. There may have been bootleg anime tapes there—I remember a bootleg of Star Wars—but I did not notice them if there were.
Now, in 1987 I went to Technicon 4 in Blacksburg and was first exposed to untranslated anime in the form of the 1984 Macross movie (quite confusing to a Robotech viewer), Urusei Yatsura, and Captain Harlock. I may not have understood everything that was going on, but I was hooked. This was also my first introduction to anime cosplay: two young ladies I would later befriend cosplayed the Dirty Pair, and one of them cosplayed Lum. I was still a young man and will try not to sound like a creep when I say those images are permanently etched in my memory.
Can you tell me about helping to launch Katsucon 1? Why did you and the founders decide to start this con? I was little involved with the actual production – I just knew through VTAS several of the "First Ones," as the original staff became known. They knew I was happy to appear on stage and run my mouth, so I was tagged to MC the opening ceremonies. Sadly, I was ill that weekend and remember little of the con. I can even remember if I was a good MC, but I obviously did not wreck the franchise!
You helped with Katsucon and then attended Nekocon years later. What caused the gap in between. Did you fall out of fandom for a while? If so, what drew you back in? I fell out of anime fandom for several years, simply because I had no means of keeping up. It became impractical for me to attend VTAS meetings held weeknights at a venue 90 minutes from my house, and so I didn't have much access to new shows. Bootlegged tapes were disappearing from convention tables as holders began to enforce their copyrights, and Star Trek fandom was keeping me pretty busy. I attended NekoCon because I moved into the area where it was held, I needed more conventions in my life, I'd never stopped liking anime, and I wanted to get more involved with cosplay. I figured there would be enough "old-school" anime fandom there to give me a foundation from which I could catch up, and that proved to be the case!
What's the biggest contrast between anime fandom when you got into it and now? While some young intensely-serious fans will still try to claim it as theirs alone, anime fandom is now widespread in geek circles and even outside. Almost everyone I interact with has heard of Sailor Moon, Pokémon, and Dragonball Z. My first partner had a passing familiarity with anime, while my current partner and I trade showings of favorite work the other hasn't seen yet. Of course, it's far easier to watch anime legally, and both imported and American-produced merchandise is all over the internet for all. Cosplay has become an industry all its own; and relatedly, it's now much easier to be an openly transgender or genderqueer fan in 2019 than it could possibly have been in 1987.
I'd love any photos you can give me of old cons or even VHS tapes from the fansubbing days! My VHS tapes are gone, because with the advent of streaming HD it's become almost painful to watch blurry 4th-generation SuperLongPlay mode media. But I'll share some of my pictures – you can find more of them at my Cosplay.com page.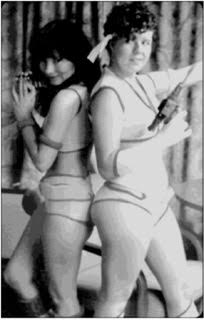 My friends Telf and Denise as the Dirty Pair at Technicon. A life-altering moment.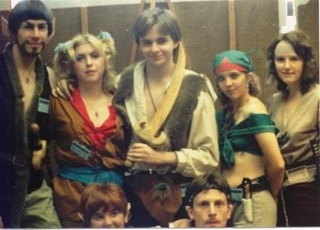 Me (center) in ElfQuest cosplay, that same year.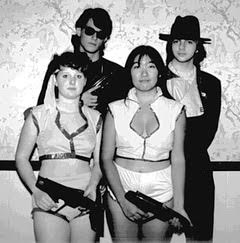 Heather and my girlfriend Sonoko as the Dirty Pair, with Paul and myself in the background as Starfleet Vice. (Long story.)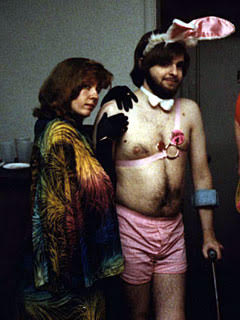 Denise with me as a gender-swapped Daicon IV bunny in 1990. (I had just been in a car accident, thus the crutches.)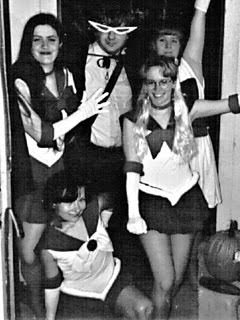 Tuxedo Mask for Halloween a couple years later. My friends JJ and Kim joined Telf and Denise.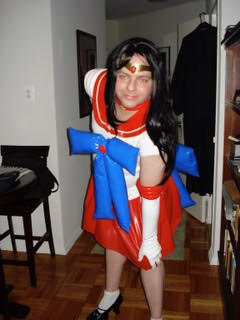 Sailor Mars a few years after that. For a while I tried to look as feminine as I could when cosplaying such characters.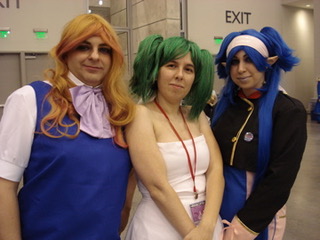 Me with Kara and Celia as Macross Frontier's Sheryl Nome, Ranka Lee, and Klan Klang. This was the last time I shaved for a cosplay, as I was getting feedback from partners that a genderqueer look was cuter on me.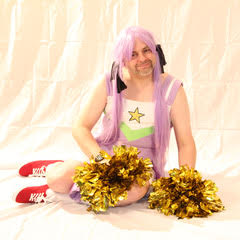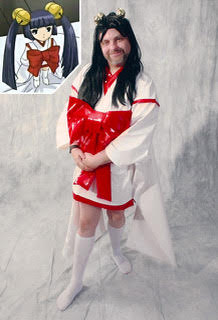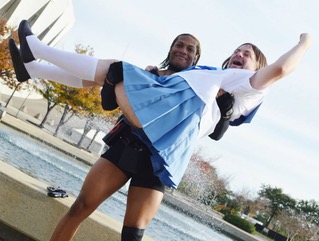 Kagami from Lucky*Star, Kotoko from Chobits (the second costume I made myself!) and me with an unknown cosplayer as Mako and Gamagoori from Kill la Kill. By this point, the beard was back to stay.
Michael can be reached on Twitter.