Age: 33
Location: Baltimore, Maryland
When did you discover anime? Share as much as you remember. I was 16 and the only "anime" I had seen up to that point were bits and pieces of Robotech and an odd episode of Dragon Ball Z that aired at 6:30 on a Sunday morning.
I thought anime was pronounced "animmh" because the only reason I was familiar with it as a concept was reading the word in an issue of Electronic Gaming Monthly, talking about a Japanese RPG for the Sega CD. I was a *hardcore* classic cartoon and animation nerd (I wrote a 55-page research project on Hollywood cartoons my junior year when honestly we were only required to write maybe 10 pages) and after some Altavista-ing in 1999 I found an anime club on the University campus: the Tucson Animation Screening Society (TASS).
I emailed one of their officers asking if I could attend a screening, and that same weekend I saw the first two episodes of Cowboy Bebop, subtitled episodes of Sailor Moon, Rurouni Kenshin, and the capper: Katsuhiro Otomo's wonderful, gorgeous anthology film Memories. That film struck me like seven concurrent bolts of lightning, and to this day I call it my favorite film ever.
What appealed to you about anime when you first discovered it? The novelty of it was something of a shock at first, having grown up on Looney Tunes and the like, but I was instantly drawn in to the fact that series like Rurouni Kenshin were definitely serialized stories, not just one-off episodic adventures that could be watched out of order.
What would you say was the most popular anime at the time? I can't separate my time in TASS with Gundam Wing; I vividly remember watching dingy fansubs at screenings and then, several months later, seeing those same episodes (largely) unchanged and dubbed on Toonami.
What was the first anime you got really invested in? How did you express your fandom? Because I came at anime from a very snobbish mindset I never really got "invested" in any particular series or anything. It was always my view that animation itself was art, so I gravitated more towards the feature films with more serious stories. I mentioned Memories, but I also remember feeling levitated by Wings of Honneamise and of course Akira. I remember seeing Jin-Roh on a fansub around this time as well and being completely blown away. I saw the people who were into fanart and fanfiction and cosplay; I was always kind of jealous in a sense that I felt as though I couldn't contribute to those in some way due to my own insecurities.
What was it like to be a part of anime fandom at the time? It was a liberating social experience. Not too many nerds who argue about Frank Tashlin's best cartoons have bi-weekly meetings. It was also my introduction to things like shojo, and series like Revolutionary Girl Utena, both of which had me like "Hey whoa, girls like these things too; all kinds of people like these shows but sometimes for different reasons and it's all good!"
Could you tell me about making friends with other anime fans early on? As far as making new friends, it helped that TASS had a club atmosphere. It was in the club's interest to grow membership numbers (you had to pay your yearly dues to stay in good standing) and so they were always welcoming to newcomers. I remember just a few months after joining the club, going to the house of one of the club's leaders and checking out his backyard telescope (southern Arizona has very clear skies so it's a popular haven for astronomers) and watching imported laserdiscs. I think we watched the first episode of Tenamoya Voyagers.
Was the Internet a part of fandom at the time? Wouldn't have found out about fandom otherwise. I also VERY quickly graduated from just going to TASS meetings regularly to aggressively sending away SASEs [Self Addressed Stamped Envelopes, more on this here] to fansubbers (God bless Kodocha and their purple Barney tapes) and tape trading, all of which wouldn't have been possible without alt.rec.anime.misc and nascent Geocities websites.
What was tape trading like? Purple Barney tapes? The purple Barney tapes! Kodocha was a fansub group named after the manga and anime series of the same name, and their gimmick was that all their tapes came on purple VHS tapes. From what I understand, someone in the fansub group visited a VHS manufacturer that had hundreds upon hundreds of blank, purple VHS tapes that were originally meant to be used for episodes of Barney the Dinosaur, and they had the foresight to snag as many blank extras as they could.
I started with Kodocha because they were one of the few who didn't require any tape trading—you sent an SASE, maybe a few bucks, and you got your fansub. I didn't have a second VHS player at home to copy tapes, but I sure did at my high school. I was part of the Media Arts program, and for my junior and senior years I had an independent study. They never gave me any directive on what to do, so I ended up using their VHS equipment to copy tapes and take naps. Tape trading was fun and I built up a sizable collection over the span of those two years, though lord knows where those tapes are now. (I was also trading tapes of Mystery Science Theater 3000 episodes.)
It's the sort of thing that I can't imagine having the patience to deal with as an adult, spoiled with broadband internet. You'd find somebody on Usenet or their Geocities webpage where they'd list what they had as well as what they were looking for. You'd exchange emails ("I got the complete set of Hyper Police, can I trade you for the first arc of Rurouni Kenshin?"), send 'em off in the mail, and wait oh-so-patiently for weeks and weeks until my mom or dad would confusedly ask me if I had ordered something from Cincinnati or wherever.
I don't have any, but Zac [Bertschy] posted some old Kodocha tapes on Twitter some time ago.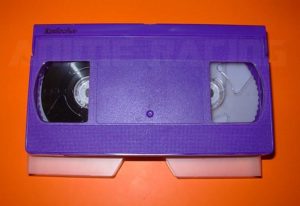 Was anime seen as something weird back then? What did your family or friends think of your interest in anime? Of course it was seen as weird. Nobody really knew what it was. My parents—conservative Mormons though they were—were mostly just happy that I was getting out of the house and meeting friends, so they didn't seem to upset about it. I'm sure if they knew the content of some of what I was watching they'd be upset, but this was around the era when Pokemon was starting to become a popular children's cartoon show, so they mostly thought I was just watching more of that.
Most of my peers in school who weren't into anime themselves were at least curious about if, if I remember right. If anything I was made fun of more for being the weird kid who read books about old Disney cartoons in class than I was for liking anime. Anime at least had an edge to it that most kids my age found interesting: there's violence! Swearing! Boobs and stuff!
Do you remember your first convention? Only vaguely. I believe it was Anime Expo either in 2005 or 2006, one of the last years it was held in Anaheim. The convention itself was a drunken blur. Mostly I remember the ride from Tucson to Anaheim: 8 1/2 hours in a crummy, smelly van, driven by a TASS volunteer with a cowboy hat, the place littered with old computer parts probably dating back to the 1970s, while a bevy of Kimagure Orange Road soundtracks blared.
For you, what's the biggest contrast between anime fandom then and anime fandom today? I'd say the biggest difference in the fandom has everything to do with the internet, most importantly: accessibility. Outside of anime being on cable TV like Toonami, you can go on YouTube and type in the name of whatever anime you're curious about and you'll at least find a clip or something, while Crunchyroll has every damn episode of Naruto available on demand. Anime wasn't something you just happened across, for the most part, and if you were curious about it, it certainly took longer than a five-second Google search to check it out. I mean, I had to physically go to a building on a college campus every few weeks to see it before Toonami got started.
In a way though I think fandom is quite similar in a lot more ways than it is different; if anything I'm the one that's changed. These days as a grown-up, I'm very picky about what shows I watch. The only thing I'm really keeping up on that's simulcasting is My Hero Academia. Meanwhile people I know on Twitter are literally watching EVERYTHING. Every damn show that's airing. That's insane to me—except I remember my time at TASS and that's precisely what I did, every other week, for years. I'd sit down and even if it was something that probably wouldn't appeal to me in some way, I still watched it, just to check it out. It's how I found out about really great shows like Yawara! and so on; you probably couldn't get me to spend 20 minutes watching a new anime about a girl in school practicing judo, but at the time I was simply voracious and wanted to watch everything.
Brian can be reached on Twitter.