Age: 26
Location: Chicago, USA
When did you discover anime? It was sophomore year of high school (I think around 2006?) when I decided to try anime. Things like memes and imageboards were just starting to get popular. So my first anime was Rozen Maiden because I saw so much art of one of the characters.
What appealed to you about anime when you first discovered it? I think it was because it was so different from cartoons I've seen before. Sixteen-year-old me found it so cool watching animation made by a different culture: what stories they tell, the style of comedy, and what kind of characters they create.
What was the first anime you got really invested in? How did you express your fandom? The first anime that made me go "alright, this is the best anime I've ever watched" is the Aria franchise, cumulating with Aria the Origination. It remains my favorite anime to this day. Fortunately, there isn't that much merchandise or events related to this show, but I do have the art books, blu-rays, and manga. The day Kawakami Tomoko died in 2011 I was inconsolable. I still get emotional when I hear Athena's voice.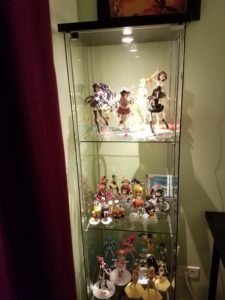 What would you say was the most popular anime at the time? Probably Bleach and Death Note. I didn't really pay attention to airing stuff until like 2008, and by then I distinctly remember Lucky Star being all the rage.
What was it like to be a part of anime fandom at the time? I had one or two friends who watched anime as well, but I mostly kept it to myself. I did try showing some stuff to other friends with mixed results.
What were those mixed results? It was more or less a learning experience that different people liked different genres—really, really early on. I showed a good friend Lucky Star and School Rumble, but he enjoyed the more cerebral shows like Serial Experiments Lain and Evangelion instead. I was still in that wonderful phase where I thought every anime was just the most incredible thing ever.
Was the Internet a part of fandom at the time? If yes, how? If no, how did you connect with other fans? The internet was a place where I could freely talk about anime because I was in the company of other anime fans. It was a godsend for someone like me, where I just have to share the ideas filling my head to the brim. I started really getting engaged when I joined the Saimoe community (those voting poll contests to democratically determine best girl popular a few years ago) which eventually led to me starting my own anime blog which eventually led to me making fake anime news.
I want to hear more about the origin of your "fake anime news" blog Anime Maru! I had my own blog that I had been writing for a few years. I was proud of my work and more or less did it for fun, and through blogging I virtually met many of my close acquaintances in the anime community (including you!). But over the years I started losing passion for and I was looking for some way to be different. I felt like everyone has an anime blog and while sometimes a great clever idea or unique insight pops into my head, in the end I was just doing what everyone else was doing. I wrote a few parody anime news articles and not only were they incredibly fun to write, the people I shared them with found them really entertaining. I knew I had a fresh new idea, but I had decently high ambitions so I would need a staff. I took some time off to really plan out my vision, do the groundwork for making a website, and finding a good staff of writers. While the first year was a bit rocky and had some growing pains, I finally found joy and passion in writing about anime again. I'm glad I can contribute to this community in my own unique way.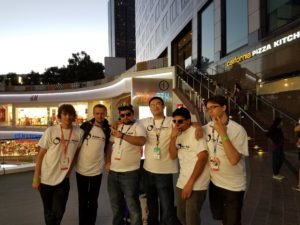 As a blogger, do you interact with newbie fans? If so, how do you think their perspectives are different than when you were a newbie fan? I think Anime Maru targets the hardcore anime crowd a bit more, as a lot of humor is meta-humor about the fanbase itself or oblique current events in the anime world. But outside of writing, I do enjoy talking about anime especially with new people. One trait newbie anime fans all share is being easily impressed by anime. I think this is because early in fandom they are recommended good shows by people trying to help them, and also by the fact they have not been "jaded" by tropes or cliche. To have that innocence back!
Do you remember your first convention? What was it, and what was it like? My first convention was Anime Expo 2011, for which I flew into Los Angeles for. I never imagined having fun at an anime convention because I couldn't find anyone interested in going. However, one of the blogs I wrote for at the time offered me press credentials and I just decided to go for it. Besides getting awesome access to guests and not having to stand in line, I was exposed to how fun it was to brush shoulders with "people from the internet" and be in a literal sea of individuals who share my passion. Now I am a regular convention goer.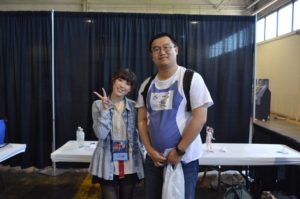 You had press credentials. So you got paid to write about anime? How did you go from fan to pro? I'm really into anime music. Many years ago I was really into movie soundtracks, and that kind of bled into anime and I began researching anime soundtracks. I was invited by zzeroparticle to contribute on his anime music blog for a while because I could write moderately intelligently about anime soundtracks. His blog was a bit more successful and popular than my little shack at the time, and I got to go to some conventions! My fondest experiences with anime music include Yoko Kanno's PIANO ME performance at Otakon and Kalafina at Anime Expo. For a soundtrack geek at the time like myself, it was an experience of a lifetime.
What's the biggest contrast between anime fandom when you found it and anime fandom today? The sheer size and organization of the fandom. Twelve years ago I could easily find a discussion board about anime or watch just about any show using the high seas, but now anime fandom is like a galaxy swirling around thanks to social media. Each fandom has huge rabid communities, and anime has never been more accessible. Anime has become far more mainstream and will only continue to do so.
Kevo can be reached on Twitter.