Age: 35
Location: Baltimore, Maryland
When did you discover anime? Share as much as you remember. When I was 11, I stumbled onto a movie called Project A-ko on the Sci-Fi channel's Saturday animation block. It was an action-comedy film where the hero, a teenage girl who wants to make a good impression in school, is forced into these crazy fights because a classmate wants the hero's friend to be with her. During the commercial breaks, they would promote other anime movies including Robot Carnival, Akira, and Lily C.A.T.
It was a while later when I found out shows like Samurai Pizza Cats, Maya the Bee, and Hello Kitty were anime. Around that time, I saw Sailor Moon on syndicated TV.
What appealed to you about anime when you first discovered it? For the most part, it was the animation style. It wasn't as fluid as say a Don Bluth or a Disney film. In fact, the characters' mouths weren't in sync with the dialogue and that piqued my interest.
In sci-fi animated films like Project A-ko and Akira, the fight scenes, the technology, and the overworld were so over-the-top, they looked like expensive blockbuster films.
What would you say was the most popular anime at the time? Sailor Moon, Dragon Ball Z, Samurai Pizza Cats. Keep in mind this was before Toonami existed and many anime were aired on either syndicated or Nickelodeon.
What was it like to be a part of anime fandom at the time? I didn't even know about fandoms period, let alone a fandom for anime. Not many kids my age at the time were talking about anime. In fact, I don't think they knew what "anime" was. But then again, I didn't ask.
Was the Internet a part of fandom at the time? The Internet was fairly new when I got into anime. I didn't discover message boards until a couple years later, and back then, people were discussing episodes of Sailor Moon Stars and Dragon Ball GT.
Could you tell me about when you did discover message boards? I learned about message boards around mid-90s through American Online. Back then, I would spend little time online as the only way I could connect was through the landline, so if I was online, no one else in my house could talk on the phone. I didn't actually post back then, just read.
However, I jumped into posting on message boards around 2003, while I was in college. I used a few screen names, mostly Anikiki, which is a combination of 'Anime' and 'Kiki', a name I called my sister's cat at the time (the cat's name was 'Akira'). I made a few online acquaintances, but we would only see each other at conventions.
I joined a variety of websites including Cosplay.com, AMV.org, Nintendo.com, and DeviantArt, just to name a few. On Cosplay.com, mostly I just shared photos and asked for advice on how to make a great costume. On AMV.org, I mostly talked about anime conventions since I don't usually make AMVs. I made one AMV for a panel at Anime USA my friend and I did about anime in the 1980s, mainly used as an introduction to the panel. On Nintendo.com, I talked about upcoming Nintendo games, Nintendo-related events, did some role playing (I made a shop and an inn called Star Haven Resort (inspired by a place in "Paper Mario"), and chatted with people at Nintendo of America. On Deviantart, I shared my art and ask for advice about art. I don't usually post on forums anymore as now social media like Facebook and Twitter exist.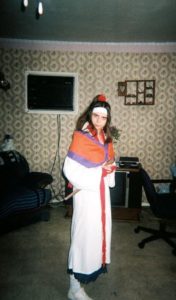 Do you remember your first convention? What was it, and what was it like? It was Katsucon 2003. I didn't even know what to expect when my college buddies from the anime club suggested I come. We didn't stay long, since there was a blizzard coming. But during the Saturday I did stay, it was a lot to take in. For the most part, I watched some anime and AMVs and played video games in the game room.
Cosplay was the biggest attraction and seeing people having fun, I'd figure I would try dressing in costume in the next convention I attended (Otakon 2003).
Did you? I cosplayed as Suzuka from Outlaw Star, Tails from Sonic the Hedgehog, Ishizu Ishtar from Yu-Gi-Oh, and Marisa Kirisame from Touhou Project. Suzuka and Tails were the first ones I cosplayed at Otakon 2003. Marisa was the latest one, and compared to my other costumes, I felt I had to step up my skills in construction quality and use fewer store-bought items. It is still my favorite costume.
Tell me about the first friend or friends you made through anime fandom. Was it an online or IRL friend? First friends I made through anime fandom were in college. I was very lonely in my first semester in college. It wasn't until the second semester when I overheard my neighbor in the dorms playing Super Smash Brothers Melee. I joined for a few matches and soon we learned we both liked anime. We watched a few episodes of Slayers Next and Ranma 1/2. In fact, he was the one who got me into watching subs, as he was not much into English dubs. We didn't talk much after the end of the semester because he was heavily focused on his studies in music and getting into the music fraternity.
However, I did get to meet a few more people, who are still friends with me today, in the college's anime club. Every week, we would spend the day playing video games, watching anime, and having dinner at the college hangout. Sometimes, we would go to a friend's house and watch anime, play games, and socialize. It was through them I had learned about anime conventions and we would spend time together at those events.
What was the first anime you really got into? How did you express your fandom? If we were talking about obsessing over a franchise that I would browse through fansites, make fan fiction and fan art, compile a Windows desktop theme, and even build a fansite (filled with my reviews, photos, and fan pieces I've done), it would be Mario. My Twitter handle, @starhavenstudio, came from my current website, starhavenstudios.com, which was inspired from my Mario website, "Star Haven Resort", from my days on the Nintendo forums.
But if we're talking about an anime that made almost as much as a fan as I was Mario, I probably would say Yu-Gi-Oh. I bought the cards (sadly never played them), cosplayed Ishizu from the show, and joined group photoshoots. At Katsucon 2004, when I premiered the costume, a little girl asked me for my autograph. At the time, I didn't know what to sign, so I signed my character's name and my Internet handle.
Finally, can you tell me how your anime fandom is different now than it was then? When I was in high school, not many people other than "geeks" would talk about anime. But when I got to college, I learned I wasn't alone. There were clubs and conventions people would gather to share their love for anime, video games, and Japanese culture. Because of the club, I did some things I didn't even dreamed of doing. I didn't even think about learning Japanese when I entered college, but since a lot of my fellow anime buddies were learning Japanese, or have learned Japanese, I figured I would take a few courses in the language.
I even took some risks by having one of my friends and I do a panel (it was mostly his idea). I was very nervous presenting the panel, even going a little over the time limit. But people stuck around and we even had a discussion, so there were some people who seemed interested.
And with all the times I post anime-related stuff on Facebook, people reading began to get curious about anime and conventions. They were interested in my adventures in conventions and the anime I watched. I will admit it is difficult for me to explain the feeling of my love for anime and the fandom, but I try. I mean, how does one explain subjects like Hatsune Miku, Touhou Project, and some of the popular Internet memes without getting strange reactions? I remember trying to explain Food Wars and its appeal to a co-worker who was curious while looking through the manga. Yeah, it was difficult.
Kristen can be reached on Twitter.