Age: 20
Location: Columbus, Ohio
When did you discover anime? I discovered anime at a very young age (in the early 2000s) because of my older half-sister Chelsea, who is eight years older than myself. She was always obsessed with Japan and anime, having countless Sailor Moon tapes and merchandise; her closet was bursting with SM dolls and figures, and she had a whole binder full of first edition, Japanese holographic Pokemon cards under her bed. I lusted over it through my whole childhood. She was so obsessive over Sailor Moon that my mother was pushed over the edge and essentially forbade the viewing of anime, and especially Sailor Moon, in any part of the house except for the basement, where she could not see or hear it. Of course, that only made me more curious about it, though I could not express that sentiment out loud. Probably out of spite for my mother, she planted the "anime seed" in me and my younger sister by showing us Studio Ghibli movies like Spirited Away, Totoro, and Kiki's Delivery Service. We had no idea these movies were from another country since they were dubbed in English, though I don't think we would have cared much. They were different from the usual coming-of-age Disney stuff we were used to, so I was fascinated with them. When Chelsea went off to college, I would look forward to her return on holidays because she would bring her DVD of Spirited Away back home. Seed successfully planted!
Fast forward a few more years and I was going through my obligatory adolescent wolf phase. I loved roleplaying wolves on forums (my OC was a black wolf named "ViperScar") and drawing my fursona on deviantART. One day I was looking at some dank wolf art on dA and someone mentioned a show called Wolf's Rain. So, I gave it a try, because wolves! I binged the whole thing on YouTube, with each episode uploaded in three ten-minute parts in what must have been atrocious quality. I didn't understand all of it, but I loved it, and it made me feel mature because of all the blood. A few episodes in, I figured out it was Japanese. I didn't want to be associated with anime since my parents hated it so much, so I rationalized that it wasn't "real anime," because it was dubbed in English and had an English OP/ED. I kept my interest in the show a relative secret (though I introduced it to my BFF who probably only sat through it because he had a crush on me).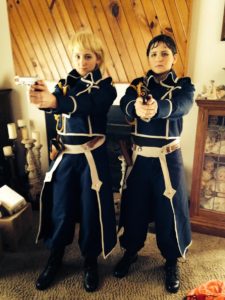 My interest in this show allowed me to really bond with Chelsea; we weren't particularly close until the summer after my fifth grade year, when she discovered I had tasted the forbidden fruit. I think she was excited to have another person to talk to about anime and Japan, even though I had only really seen one title. And I was happy to get the attention and fulfillment resulting from having an actual connection to my sister. She would take me on long drives to the nearby Japanese markets and bookstores and we would talk about anime and play Yoko Kanno tracks from a CD in her car. She also told me about the times in distant past where you would have to get anime by mailing blank tapes to strangers so they could copy shows to them and then send them back. Her stories about '90s anime fandom were so far removed from my reality at that time that it almost seemed like some sort of mystical Tolkeinesque fantasy. I was enchanted by it. Everything was good.
A few more years passed and my parents separated. Everything was not good. He subjected me, my mother, and my younger sister Danielle to narcissistic abuse, terrorizing us in our family home every day after he got off work and then leaving suddenly to return to his girlfriend. Chelsea and my other half-sister Lindsay were living out-of-state at this time, so they didn't have to deal with him. Everything had turned around so quickly that no one knew how to handle it. Suddenly, we had no father, no money, barely a mother (she was sick and constantly bedridden; my dad was her physician and purposefully gave her medication that would interact negatively in the body), no friends, and I was deep into clinical depression that was so far unresponsive to medication.
Because of all the turmoil, I became close with Danielle and we binged shows like Sherlock, Hannibal, Adventure Time, and Star Trek: The Next Generation together. When I was a junior in high school, I heard about an animated show called Fullmetal Alchemist, and the premise sounded interesting. There was a catch though: it was one of those forbidden Japanese cartoons! I asked Danielle if she was okay with watching an anime and she was just kind of like "sure." We were hooked, watching the original and Brotherhood two times over the course of a month. It only made us hungry for more; that summer we watched Cowboy Bebop, Trigun, and Evangelion. There was a showing of Evangelion 3.33 in theatres that we had the privilege of going to and it was a religious experience. Then, I haphazardly learned how to sew by watching YouTube videos just so we could cosplay Riza Hawkeye and Maria Ross. That winter, we went to our first anime convention wearing the cosplays I so lovingly sewed together. I spent so much time on them that I actually broke my cheapo sewing machine! We were officially knee deep into anime fandom and it only snowballed from there.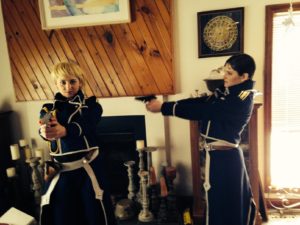 To this day I have watched 274 different TV anime and am an avid cosplayer. I have gotten many other people into the medium and am even learning Japanese with great enthusiasm. Most strikingly, it has helped me deal with the treatment-resistant depression that has been slowly taking all positive feelings away from me over the years. Stories like NGE, Rurouni Kenshin, Berserk, Revolutionary Girl Utena, and The Rose of Versailles have given me a slew of interesting and multifaceted characters and situations to analyze, while things like JoJo's Bizarre Adventure and One Piece allow me to smile when it seems like nothing else is worth smiling at. All of these things have brought me immense joy and remind me that I am still capable of feeling it.
I know it's silly and cheesy to say something like this, but I am very thankful for anime. It has allowed me to connect to my family and make friends in new places, inspired me to continue making my own art, and has often made life the slightest bit easier to handle when it seems like everything is falling apart™.
What appealed to you about anime when you first discovered it? How unique the stories and characters were in comparison to what was available in the West.
What would you say was the most popular anime at the time? Pokemon and Naruto; later, Attack on Titan.
What was it like to be a part of anime fandom at the time? When I was a kid and first getting into anime, I wasn't even that involved in a wider fandom. It was more as a teenager and an adult that I realized there even was a fandom and got more involved. And that was pretty much present day, so it wasn't much different than now!
Do you know how your half-sister Chelsea found out about anime that led to her getting hooked on Sailor Moon? No surprisingly, no one seems to know how it started. I can't remember a time when she wasn't into anime, and she is very secretive about her feelings and passions.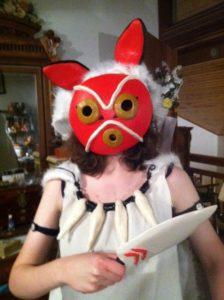 How did anime fandom lead to an interest in cosplay? How did you learn cosplay was a thing? How did cosplay make you feel? I think it was just a natural evolution of what I was doing before for Halloween, etc. I always went all out on my costumes (e.g. James Cameron's Avatar costume in for Halloween 2010 with full-body blue paint and latex prosthetics) and enjoyed assuming the identities of fictional characters because I just didn't like my own identity too much. I saw a lot of cosplay over the internet and I had already learned some sewing basics by the time I was getting serious about anime; It seemed like an enjoyable way to express my deep love for the things I liked while also pretending to not be me for a little bit. Cosplay was and is very empowering for me; I am a lot more animated when cosplaying and it's fun interacting with people that have the same interests. It's a source of validation in addition to it being a chance to show off my craftsmanship.
Do you remember your first anime con? Yes, it was Ohayocon 2014! I cosplayed Fullmetal Alchemist with my sister, but we only ended up cosplaying for one afternoon. The con seemed huge and overwhelming, especially since we were so young (I think I was 16-17 while my sister was 13-14). We couldn't find registration to pick up our badges for the first 2.5 hours we were there, it was actually kind of a stressful experience and we didn't really go to any panels that because the place was so hard to navigate. The day after was more enjoyable, we decided not to cosplay and were able to go to to more panels because of the time that freed up in the morning.
How does your mom feel about anime now? Does she still dislike it? It's not something that she seeks out by any means or anything, but she does seem to have a deeper appreciation for anime since it's helped her daughters so much. At one point, she considered writing a thank you letter to Eiichiro Oda, since One Piece helped me through a very rough part of my life and very well could have saved me.  Heck, I think she considers herself a lowkey fan of JoJo's Bizarre Adventure, though a lot of that comes from the surplus of buff and attractive men in that show. Who can blame her, though!
It's heartening to see how anime helped you bond with your sisters. Do they still watch anime today? Do you still watch together? I am living on my own now so I don't get to see Danielle very often, but when I come home we marathon it together. I'd say it's our main sister-bonding activity and it's a highlight of my visits. I don't see Chelsea very often either; she lives in Japan and is there indefinitely since she fell in love and got married there! Apparently, she doesn't watch anime much anymore, though her husband is into it (he's big on Attack on Titan and JoJo's Bizarre Adventure).
What's the biggest contrast between anime fandom then and anime fandom today? I feel like I haven't noticed any significant changes since then, I don't think I've been part of anime fandom long enough to notice too much.
Alexandria can be reached on Twitter.